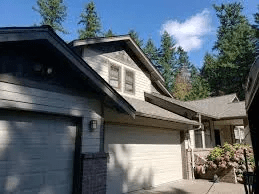 HOUSE PAINTING SERVICES IN GIG HARBOR
Just bought your dream house in Gig Harbor? Before you move in, add a more personalized touch to it by giving it a fresh paint job. With a new coat of paint, not only will you be employing a smart and cost-effective home improvement strategy, but will also be enhancing your curb appeal. What makes this exercise so fruitful is that it can be done exactly the way you'd like, keeping all your personal preferences in mind. We all want our homes to look a certain way, and with house painting services, you can choose what colors you want your new home to adorn.
That said, there's a lot more to house painting than just selecting the color palette for the exterior and interior surfaces of your house. It also involves meticulous planning, strategizing, and execution for you to get the results you desire. All of this can be made possible by hiring a professional residential painting company for the task. They'll take care of each and every painting related aspect, allowing you to take the backseat and relax as the professionals go about their work.
Contrary to popular belief, painting is more than just a compilation of brush strokes using a particular set of colors. The task is actually quite more complex and comprises various technicalities. This is why it needs to be performed by someone who actually knows what they're doing, having done the same thing several dozen times before. Don't even think about taking up the task of painting your house by yourself. Leave it for the professionals.
This is where our team at Community First Painting LLC comes in the picture. We're a locally owned and operated business and have been in the industry for more than ten years. With our decade of experience, we have just the right knowledge and training to tackle all sorts of house painting projects. Whether you want your roof and chimneys to be repainted or need a new color scheme for your living room, we've got you covered.
Our professional Gig Harbor painters are fully licensed and insured. We work round the clock to ensure that your work gets done within the designated time frame, avoiding unnecessary delays. In addition to that, our services are also easy on the pocket, making them much more affordable to our clients. With our expert painting crew by your side, prepare to be dazzled by high-quality results within a few days.
Contact our painters in Gig Harbor today for efficient and affordable house painting services!